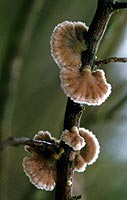 Species Diversity
One way to measure diversity is simply to count all of the different life forms or species known on Earth:
Number of Species
(approx.)

5,000

Bacteria

58,000

Algae & Protozoa

47,000

Fungi

248,000

Plants

1,033,000

Animals

1,391,000

Total
This totals nearly one-and-a-half million known species. That's a lot of diversity! Let's look at those species again in more commonly recognized groupings. About half of Earth's known species are insects, by far the most diverse group of living things. About 200,000 species are leafy plants like trees, bushes, and ferns. In contrast, there are only about 18,000 species of fish, 9,000 species of birds, 6,000 species of reptiles, and 4,000 species of mammals--which includes one species of humans. Fungus image © 2000-www.arttoday.com
Most species that live on land are found in the tropical rainforests that grow along the equator: the Amazon rainforest, the Congo rainforest, and the rainforests of Indonesia and Southeast Asia. Near the equator, the high rainfall, warm temperatures, and abundant energy from sunlight create conditions that support a wide variety of species. Away from the equator, to the north or south, dryer climates, lower temperatures, and decreased sunlight support fewer species. For example, over 1,000 different species of trees were found living on one square kilometer in a rainforest in Borneo, which is located near the equator. But there are only about 700 species of trees in all of the United States and Canada, an area of about 19 million square kilometers. Similarly, most species that live in the ocean are found in and near coral reefs which, like the rainforests, grow near Earth's equator.