Wheeling Creek Case Study: Overview
Wheeling Creek is a tributary of the Ohio River. It drains a portion of the northern panhandle of West Virginia and the southwestern area of Pennsylvania. The total drainage basin area is approximately 76,557 km2 (29.559 mi2). It includes forested, agricultural, and urban landforms, as well as industrial sites. Wheeling Creek is typical of Upper Ohio River tributary streams.
The Wheeling Creek stream map below shows all of the permanently flowing streams in the Wheeling Creek watershed.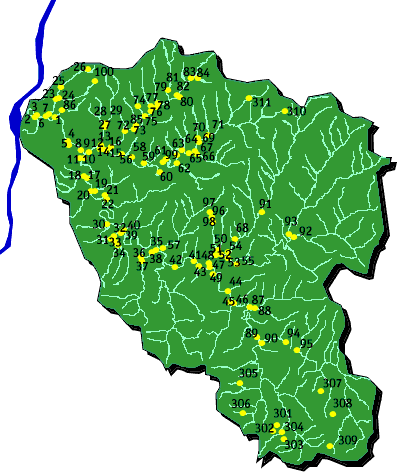 Image: Permanently flowing streams in the Wheeling Creek watershed. Photo by Ben M. Stout, III and Trevor Harris
The numbers indicate the sites at which water quality was measured by a group of researchers from Wheeling Jesuit University in Wheeling, WV. Individual water quality sampling sites in the Wheeling Creek watershed are representative of various sized streams from north to south and east to west. This allows comparison of water quality at one site with the water quality at other sites within the watershed. We refer to this method as a watershed approach, which means that it is important to view water quality at any one site within the context of water quality in the overall watershed.
Overview ..|.. Environmental History ..|.. Name That Pollutant
Glossary .|. Related Links .|.. References ..|.. PBL Model .|
Home ..|.. Teacher Pages ..|.. Modules & Activities