For more information on Yellowstone fires and regrowth, visit: The Fires of '88: Ten Years of Regrowth
Wildland Fires in Yellowstone: Fires of 1988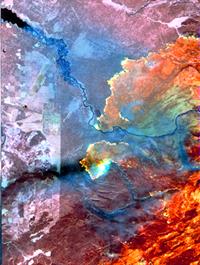 In 1988, fifty fires started in Yellowstone National Park. Initially, twenty-eight were allowed to burn. But that summer turned out to be extremely dry and windy. (Average winds blew at twenty or more miles per hour.) Several of these fires, along with other natural and human-caused fires that began outside the Park boundaries, eventually burned more than a third of the Park. Nearly 800,000 acres of Yellowstone National Park were burned that summer. Another 700,000 acres outside the Park also burned. Approximately 25,000 firefighters worked to put out the fires. The costs exceeded $120 million.
The photo above is a thermal infrared image, part of Yellowstone National Park taken during the 1988 fires using airborne remote sensing equipment. The image shows the fire fronts in white and yellow and the super heated soils in red and orange. Photo courtesy of Ecosystem Science and Technology Branch of NASA Ames Research Center.
Historical View ..|.. Fires of 1988 ..|.. Fuel & Fire Management
Glossary | Related Links | References | PBL Model
---
HTML code by Chris Kreger
Maintained by ETE Team
Last updated April 28, 2005
Some images © 2004 www.clipart.com
Privacy Statement and Copyright © 1997-2004 by Wheeling Jesuit University/NASA-supported Classroom of the Future. All rights reserved.
Center for Educational Technologies, Circuit Board/Apple graphic logo, and COTF Classroom of the Future logo are registered trademarks of Wheeling Jesuit University.