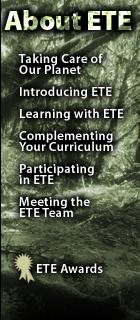 Have a comment about ETE? We want your feedback.

The ETE modules can augment existing science courses, and they are interdisciplinary in nature so that they can also be used in courses such as economics, social studies, and history.
The ETE modules complement your existing curriculum requirements because they incorporate many of the process and content goals that students need to learn while in your class.
Process Goals
While using ETE modules and activities, students will accomplish the following process goals.
Students should be able to solve problems and think critically. In each module students will encounter a situation, sometimes narrowly defined, but usually stated in such a way that students can define a focus that interests them--in line with the teacher's course objectives. Students should recognize there is a problem, state and define it, gather and analyze data, place findings in a written document or other product, and support and defend their findings, solutions, or recommendations. A major objective is to create an environment where students are workers and where they think, exercise creativity, and generate products.
Content Goals
Using the ETE series will help students to grasp the following content goals, established by Mayer and Armstrong (1995), for studying Earth system science:
The Earth system is a small part of a solar system within the universe.
The Earth system is comprised of the interacting subsystems of water, land, ice, air, and life.
The Earth's subsystems (water, land, ice, air, and life) are continuously evolving, changing, and interacting through natural processes and cycles.
The Earth's natural processes take place over periods of time from billions of years to fractions of seconds.
Many parts of the Earth's subsystems are limited and vulnerable to overuse, misuse, or change resulting from human activity.
The better we understand the subsystems, the better we can manage our resources.
Human activities, both conscious and inadvertent, impact Earth subsystems.
A better understanding of the subsystems stimulates greater aesthetic appreciation.
The development of technology has increased and will continue to increase our ability to understand the earth. The uses of computer simulations, modeling, and remote sensing are examples.
Earth scientists are people who study the origin, processes, and evolution of Earth's subsystems; they use their specialized understanding to identify resources and estimate the likelihood of future events.
Science Standards The ETE series addresses many of the Science Education Standards from the National Research Council (NRC) and the 1993 Project 2061 Benchmarks for Science Literacy. For more information regarding Science Standards addressed in the ETE series, see additional National Science Standards resources online.