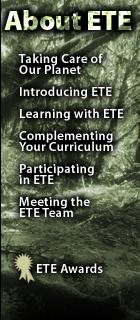 Have a comment about ETE? We want your feedback.


Welcome to Exploring the Environment® (ETE). The ETE online series, which features an integrated approach to environmental Earth science through modules and activities, is developed through the NASA-sponsored Classroom of the Future program at the Center for Educational Technologies at Wheeling Jesuit University in Wheeling, WV. The creation of ETE was funded through NASA .
The vision of the ETE online series is to promote science-literate and reflective students who are knowledgeable of the Earth's processes and their responsibilities for stewardship. The problems in the ETE modules and activities ask students to address human activities and their impacts upon the environment. The modules and activities incorporate environmental issues such as water quality, deforestation, biodiversity, volcanoes, ozone depletion, and global climate change.
Featuring problem-based learning (PBL), the ETE series provides students with tools to investigate scientific, social, political, and cultural aspects of controversial, authentic environmental problems. Standard problem-solving models, online resources that include relevant satellite imagery, and recommendations for extended inquiry are available to students.
Student-directed research generally lasts a minimum of five weeks but often extends throughout the semester. Working cooperatively or individually, students engage in problem-based modules and activities that require them to formulate problem statements; to collect and analyze data; and then to prepare and present their findings, solutions, or recommendations. These findings, solutions, or recommendations should demonstrate students' understanding and awareness of the dynamics of both physical/biological and socioeconomic variables.
Click here to access the ETE Modules & Activities.