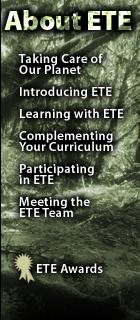 Have a comment about ETE? We want your feedback.


Students using the Exploring the Environment® (ETE) modules and activities will become competent in a number of technological and thinking skills.
Using Computers
ETE students collect, analyze, generate, and transmit information through computers. They use e-mail to communicate their findings to ETE students at other schools and to contact scientists for answers to questions. Students also learn specialized software products and interpret remotely-sensed images. Students use computers to search the Internet for information that will help them to develop satisfactory solutions to the problems they are trying to solve. Finally, students use word-processing software or hypertext mark-up language (html) to create a report to present their findings, solutions, or recommendations.
Doing Problem-based Learning in Collaborative Learning Groups
The ETE online series emphasizes problem-based learning (PBL) and collaborative learning groups for student-directed inquiry into Earth systems education. The modules encourage students to think, to solve problems, and to write and speak clearly. The emphasis in this PBL model is for students to take responsibility--and a more active role--in the learning process. And as in real ife situations, the goal is not necessarily in answering questions correctly, but in asking them. To learn more about using PBL and cooperative learning, there are useful tips in the Teacher Pages.
Analyzing Remote Sensing Imagery
NASA and associated agencies hold terabytes of remote sensing data in databases that can be effectively used to support educational activities over the Internet. The purpose of the ETE series is to develop and provide middle school and high school environmental Earth science modules that feature NASA's remote sensing information.
The remotely-sensed satellite images used in ETE modules are images of the earth taken from NASA satellites or aircraft, which students download from the Internet. The images, however, are not taken by ordinary cameras, and they may vary from traditional photographs in many ways, especially in color and scale. Interpreting them may involve physical manipulation (cropping, rotating) or mathematical manipulation (processing) of the digital data stored in the pixel array of the image. These manipulations are done in the classroom by students using image processing software. Students access these software products by following instructions in the ETE modules.