Wheat: Overview
Wheat is the most widely produced food crop in the world. In the United States, 42 states grow wheat and Kansas is the highest producing state. In 1997, Kansas alone grew enough wheat to bake six-and-a-half loaves of bread for every person in the world. To learn more about the daily activities of Kansas wheat farmers, visit The Kansas Wheathearts' Wheat Mania Site.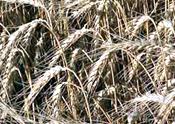 Wheat is divided into two 'types'--winter and spring. Winter wheat is planted in the fall, remains dormant through the winter, and is harvested in the spring. It is the primary type of wheat grown in Kansas. Spring wheat, which is more often grown in northern states, is planted in the spring and harvested in the fall. Each of these two types of wheat is further divided into 'classes.' There are six classes of winter and spring wheat grown in the United States. Hard red winter wheat is the largest class of wheat produced and exported from this country each year. To learn more about the classes of wheat, visit the Minnesota Association of Wheat Growers. Photo: Wheatheads at harvest time. Photo courtesy of Wheat Mania.com.
Within each of the six classes of wheat, there are several 'varieties.' Each variety has specialized characteristics. For example, one variety might have extreme disease resistance, while another has a high protein content. Farmers try to plant the varieties best suited for their particular farms so that they can grow the most wheat on the smallest amount of land at the lowest cost, thus maximizing their profits. Therefore, choosing the right variety can be the most important part of increasing crop yield, according to The University of Georgia's Intensive Wheat Management Site.
Even with the best choice of variety, growing wheat can still be a challenge. Farmers must supply their crops with enough nutrients and protect them from diseases, insects, weeds, and severe weather. Other important factors that affect the yield of wheat crops include temperature, the amount of water available, and even the concentration of carbon dioxide (CO2) in the air.
Overview ..|.. Nutrients ..|.. Temperature ..|.. Precipitation ..|.. Carbon Dioxide
Glossary ..|.. Related Links ..|.. References |.. PBL Model
Home ..|.. Teacher Pages ..|.. Modules & Activities