Wheat: Carbon Dioxide
Wheat, like other plants, requires carbon dioxide (CO2) to complete photosynthesis. Photosynthesis is the process by which the sun's energy is trapped and used to produce sugar and other compounds necessary for life and growth.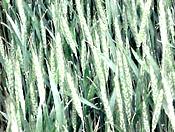 Scientific studies have shown that if the concentration of atmospheric CO2 increases, as it has been, the rate of photosynthesis in plants could increase and the plants may be able to absorb and store more carbon. This could result in increased productivity of plants--including wheat. The increase in yield that results from increased concentrations of atmospheric CO2 is known as the "CO2 fertilization effect." Photo: Kansas wheat of the Jagger variety. Photo courtesy of Wheat Mania.com
It is predicted that concentrations of atmospheric CO2 may double from 350 ppm to 700 ppm within the next century. Under ideal temperature and precipitation conditions, the CO2 fertilization effect of such an increase in atmospheric CO2 may result in an increase in the yield of wheat by as much as 20 - 35%.
However, the ideal temperature and precipitation conditions that allow for such large CO2 fertilization effects are seldom realized. This is because the elevated concentrations of atmospheric CO2 that lead to increased photosynthesis are also responsible for contributing to the greenhouse effect--a process that can result in elevated temperatures and changes in precipitation patterns.
Overview ..|.. Nutrients ..|.. Temperature ..|.. Precipitation ..|.. Carbon Dioxide
Glossary ..|.. Related Links ..|.. References |.. PBL Model
Home ..|.. Teacher Pages ..|.. Modules & Activities