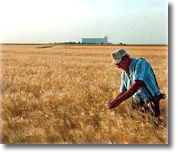 Wheat: Temperature
Like all plants, wheat requires certain temperatures for germination and growth. This requirement often limits the regions where wheat crops can grow successfully. Research reported by The University of Georgia's Intensive Wheat Management Site reveals that wheat germinates best in areas with temperatures between 68 and 77 degrees F. In addition, winter wheat requires a period of vernalization--a cold period before it will produce flowers and mature--of 6 to 8 weeks at temperatures between 32 and 52 degrees F. Photo: Kansas farmer checking wheat to see if it is ready to harvest. Photo courtesy of Wheat Mania.
Since temperature generally corresponds quite strongly with the time of year, there is usually a specific period of time when it is best to plant and harvest a crop. For example, in Kansas winter wheat is typically planted between September 20 and October 10. It is harvested between June 20 and July 10. However, elevated temperatures can result in a shortened growing season because development of the crop may occur at a faster rate. In addition, increased temperatures may reduce the rate of photosynthesis. Shortened growing seasons and reduced rates of photosynthesis can lead to a decrease in wheat yield.
In addition to its affects on wheat's growing season and rate of photosynthesis, elevated temperature can affect soil moisture, bacterial disease and fungal growth, insect infestation, and nutrient availability. All of these factors affect wheat yield. Elevated temperatures may dry out the soil, and thus decrease the amount of water available to the wheat. If the wheat does not receive enough water, its yield may be severely decreased. High temperatures can also increase the occurrence of bacterial diseases and fungal growth which have a negative affect on wheat yield. Warmer winter temperatures may increase the number of insects present in wheat fields, too. Warmer temperatures increase the insects' ability to survive the the winter in high-elevation areas. More insects increase herbivory. On the other hand, elevated temperatures may benefit yield by increasing the amount of available nutrients. This is possible because high temperatures cause an increase in the rate of decomposition of dead plants and animals. This may lead to more nutrients naturally available to the wheat and ultimately an increased wheat yield.
Overview ..|.. Nutrients ..|.. Temperature ..|.. Precipitation ..|.. Carbon Dioxide
Glossary ..|.. Related Links ..|.. References |.. PBL Model
Home ..|.. Teacher Pages ..|.. Modules & Activities