Hands-on Activities: Observing the Water Cycle
Grade Level K-1
Essential Question How does water change form?
Objective Students will gain an understanding of the water cycle. They will observe water in all three of its forms and learn that changes in temperature cause changes among these forms.
Materials two metal pans or glass beakers of ice, and a hot plate
Approach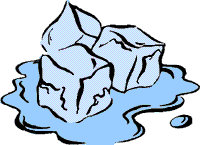 Present your students with the following: Water comes in three forms. It can be a solid. It can be a liquid. It can be a gas. (Instruct the students to look at the ice that you brought to class). What is ice made of? It is solid water. Where do you keep ice in your house? Why do you keep it there? Where is ice found in nature? Why is it found there? What happens to ice when it sits in a glass for a long time?
Place one pan or beaker of ice on the hot plate. (The hot plate is turned off now.) Explain to the students that the hot plate is like a little stove. It is used to heat things. Ask them what they think will happen if you turn on the hot plate. Turn up the heat on the hot plate. Instruct the students to watch the ice as you turn up the heat. The ice melts and becomes liquid water. Bring the water to a boil and watch the steam rise from the pan. Ask the students what is happening to the ice? Is the water still a solid? Is it a liquid? Do you think there is water gas nearby? Ask the students to describe/explain what is going on as the water changes form from a solid to a liquid to a gas. (Many students will call the steam coming from the heated water "smoke.") Note that steam is made up of tiny water droplets, like clouds. Steam is NOT water vapor. Water vapor is a gas and is invisible. However, if there is steam, some water is most likely evaporating into a gas.
Hold the other pan or beaker of ice above the boiling water. Ask the students what is forming on the bottom of that second pan of ice. When the steam reaches the container of ice, it cools and condenses. Instruct the students to watch as the steam begins to turn into water drops on the bottom of the container of ice. Eventually, the water drops will become so large and heavy that they will fall. Instruct the students to watch as it "rains" from the top pan into the pan of boiling water! How did that happen?
Reflection Ask students to think about snow. Is it hot or cold outside when it snows? Is snow a solid, liquid, or a gas? What happens to snow when the sun comes out and warms the air? Where does the snow go?
Illustration © 2003 www.clipart.com.