Topic Overview: Cycles
A cycle is a pattern that repeats. There are a lot of cycles within the Earth system. You see cycles every day. In fact, the day is a cycle.
A day is the time it takes the Earth to make one complete spin on its axis. This cycle repeats about every 24 hours. In most parts of the world, each day is a cycle of light and darkness. Half of the day we face the sun. It is daytime then. The other half of the day we do not. It is nighttime then.
Below is a diagram of the cycle of a day. Four things happen during this cycle. Daytime, sunset, nighttime, and sunrise all happen during a day. In the diagram these four things are connected in a circle. They form a continuous loop. That is another way to think about cycles. Cycles are loops. They have no beginning. They have no ending. However, the parts of a cycle do happen in a certain order. For example, daytime comes before sunset. Sunset comes before nighttime. Nighttime comes before sunrise. Sunrise comes before daytime.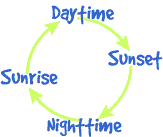 Cycles repeat over different lengths of time. Some cycles are very short. They do not take much time to repeat. Other cycles are very long. They take a lot of time to repeat. As mentioned above, the cycle of a day takes about 24 hours to complete. Another cycle you may know takes a whole year before it repeats. It is the cycle of the seasons. Seasons are patterns of weather changes. Many places in the world have four seasons. They have a hot and dry summer. Then it cools during the autumn. Then it gets cold during the winter. Then it gets warm and wet in the spring. After spring it is summer again. Below is a diagram of a cycle of seasons.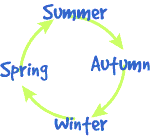 Living things go through cycles too. These cycles are called life cycles. Living things are born, live, then die. The length of the life cycle is different for each living thing. For example, some insects live for only a few days, while some trees live for hundreds of years.
Cycles also happen in each of Earth's spheres. For example, water changes among three physical forms, or phases. Water moves from Earth's surface to the air and back again as it changes form. Water can change from a liquid to a gas. When it does, it moves from Earth's surface to the air. Water can also change from a gas to a liquid or a solid. Liquid and solid water become too heavy to stay in the air. They fall from the air to Earth's surface. This movement of water is a repeating pattern. It is called the water cycle. Temperature drives the water cycle. Changes in temperature cause water to change its form. Temperatures below 0 degrees Celsius cause liquid water to freeze into a solid. Solid water is called ice. At temperatures between 0 C and 100 C, ice melts to form liquid water. Temperatures above 100 C cause liquid water to become a gas. The gas is called water vapor.
Many cycles on Earth are related to each other. Related cycles connect Earth's spheres. For example, the cycle of seasons is often related to the life cycle of plants. These related cycles connect Earth's living things with its air and water. As seasons change, so do the temperature and amount of water available to a plant. Temperature and the amount of water available affect plant growth. That is how the life cycle of plants is connected to the cycle of seasons. Below is a diagram of this connection.