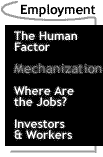 Employment: Mechanization
What Has Caused Job Loss in the Timber Industry?
According to the Seattle Times, William Freudenburg, a sociologist at the University of Wisconsin, made a surprising report on February 14, 1997, to the American Association for the Advancement of Science (Dietrich, 1997, p. A12). By looking closely at the historical record, Freudenburg and his co-authors, Dan O'Leary and Lisa Wilson, have found that job loss in the timber industry over the past 50 years has had little to do with legislation protecting either old-growth timber or the northern spotted owl. Rather, the real culprit has been mechanization (replacing men with machines) and over-cutting. These practices, said Freudenburg, more than anything else, have led to job loss in the forest industry.
Freudenburg reported that the rate of job loss has declined, from 18,000 losses per year before environmental legislation to 1,400 per year after. He also pointed out that before the Wilderness Act of 1964, a total of 230,00 jobs had already been lost nationwide since 1947. He stated that between 1947 and 1962 in Oregon alone, mechanization and over-cutting led to the shutdown of 82 percent of small sawmills and 33 percent of large sawmills. These shutdowns took place before the Wilderness Act of 1964; before the environmental-protection laws of the 1970s; and, before restrictions on logging to protect the spotted owl. Surprisingly, the authors found no change in job-loss trends with the listing of the spotted owl as a threatened species.
Summarizing their findings, Freudenburg cautioned the audience to look at the historical record on job loss before placing all the blame on environmentalists. Going further, he suggested that most job loss may have resulted from too few laws over the past 75 years to protect the environment--which is why the majority of old trees are now gone--not too many laws.1
1If you would like to read the full text of the report by Freudenburg, O'Leary, and Wilson, you will find it in a forthcoming issue of Sociological Perspectives, (vol. 14, #1).
[ Basic Ideas ] [ Current Assumptions ] [ Sustainability ]
[ Economy of Recreation ] [ Employment: The Human Factor /
Mechanization / Where Are the Jobs? / Investors & Workers ]
[ Government ] [ Native Peoples ]
[ Glossary ] [ Related Links ] [ References ] [ PBL Model ]
[ Home ] [ Teacher Pages ] [ Modules & Activities ]