Water Quality Assessment: Biological
Biological attributes of a waterway can be important indicators of water quality. Biological attributes refer to the number and types of organisms that inhabit a waterway. The poorer the quality of water, the fewer the number and types of organisms that can live in it.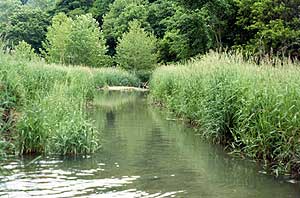 Photo: Justicia americana in Wheeling Creek. Photo courtesy of Dr. Ben Stout.
When assessing water quality, it is also important to look at the quality of organisms that live in a waterway. Some species are more sensitive to chemical and physical changes in their habitat than other species. If species that tend to be sensitive to pollution are present in a waterway, then that waterway most likely has good water quality.
Overview ..|.. Biological Assessment ..|.. Chemical Assessment ..|.. Physical Assessment.
Glossary .|. Related Links .|.. References ..|.. PBL Model .|
Home ..|.. Teacher Pages ..|.. Modules & Activities