Water Quality Assessment: Physical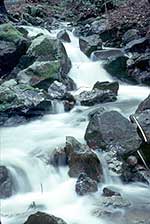 Physical attributes of a waterway can be important indicators of water quality. The most basic physical attribute of a stream is the path along which it flows. Most streams are classified as "meandering" or S-shaped. Meandering streams have many bends. The bends are characterized by deep pools of cold water along the outside banks where faster-moving water scours the bank. Meandering streams also have riffles along the straight stretches between pools. The riffles appear as humps in a longitudinal stream profile. Photo © 1999 -www.arttoday.com
The S-shaped path of meandering streams prevents water from moving too quickly and flooding downstream ecosystems. The deep, cold pools of water provide ideal habitat for many species of fish — even when overall stream-flow is reduced. The riffles help to hold water upstream during times of low stream-flow. Also, turbulence in the riffles mixes oxygen into the water. Natural stream-channel patterns, with their bends, pools, and riffles, are essential to decreasing flooding as well as providing a suitable habitat for certain aquatic plants and animals. For these reasons, it is important to assess the physical attributes of a stream when examining its water quality.
Measurements of a stream's physical attributes are used to describe the structure of a sampling site. This allows for the comparison of the biota and chemistry of similarly-structured streams at different locations. Measurements of a stream's physical attributes can also serve as indicators of some forms of pollution. For example, changes in temperature may indicate the presence of certain effluents, while changes in stream width, depth, and velocity, turbidity, and rock size may indicate dredging in the area.
Other commonly measured physical characteristics of a stream include: elevation and catchment area, stream order , forest canopy , and total solids.
Overview ..|.. Biological Assessment ..|.. Chemical Assessment ..|.. Physical Assessment.
Elevation and Catchment Area / Stream Order / Forest Canopy / Width, Depth, and Velocity / Rock Size / Turbidity / Total Solids / Temperature
Glossary .|. Related Links .|.. References ..|.. PBL Model .|
Home ..|.. Teacher Pages ..|.. Modules & Activities