Water Quality Assessment: Chemical: Alkalinity
The natural buffering capacity of a stream may mask the presence of acidic or basic pollutants. Therefore simply measuring a stream's pH may not be sufficient. For a more complete assessment of water quality, most scientists also measure streamwater alkalinity. Alkalinity is measured to determine the ability of a stream to resist changes in pH. That is to say alkalinity allows scientists to determine a stream's buffering capacity.
Alkalinity values of 20-200 ppm are common in freshwater ecosystems. Alkalinity levels below 10 ppm indicate poorly buffered streams. These streams are the least capable of resisting changes in pH, therefore they are most susceptible to problems which occur as a result of acidic pollutants.
The Chemistry of Alkalinity
Alkalinity results from the dissolution of calcium carbonate (CaCO3) from limestone bedrock which is eroded during the natural processes of weathering. The carbon dioxide (CO2) released from the calcium carbonate into the streamwater undergoes several equilibrium reactions. Equilibrium reactions are those that go in either direction, depending on what compounds are present in the largest concentrations. The following set of reactions is referred to as the bicarbonate buffering system:
CO2 + H2O H2CO3 H+ + HCO3- 2H+ + CO32-
As depicted in the above set of reactions, carbonate (CO32- ) and bicarbonate (HCO3-) ions act as hydrogen ion absorbers. This causes the reactions of the bicarbonate buffering system to shift left or right while maintaining a relatively constant pH. If hydrogen ions are added to the solution, they combine with available bicarbonate or carbonate ions, causing the reactions to shift to the left and eventually liberate carbon dioxide and water molecules. The addition of carbonate to the solution causes the hydrogen ions to be occupied and shifts the reactions to the right. In this way, an alkaline stream with a large buffering capacity is able to "hold" more acidic pollutant without displaying a significant decrease in pH.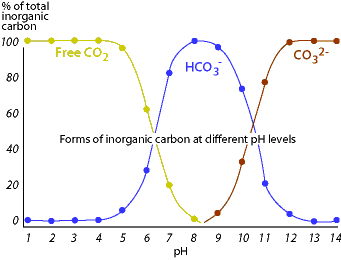 Data courtesy of Dr. Ben Stout.
Overview ..|.. Biological Assessment ..|.. Chemical Assessment ..|.. Physical Assessment.
pH / Alkalinity / Hardness / Nitrates. Nitrites, and Ammonia / Ortho- and Total Phosphate / Dissolved Oxygen and Biochemical Oxygen Demand / Fecal Coliform / Conductivity and Density
Glossary .|. Related Links .|.. References ..|.. PBL Model .|
Home ..|.. Teacher Pages ..|.. Modules & Activities