Water Pollution: Overview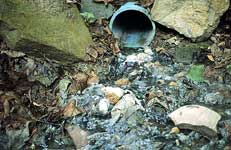 A water pollutant is any substance that decreases the quality of water. Water pollution is a serious problem. As mentioned in the Hydrosphere puzzle piece, only a small portion of Earth's water is freshwater. This is the type of water we need for survival. As pollution of freshwater increases, the amount of useable freshwater decreases. Photo: Raw sewage being piped directly into a Wheeling Creek tributary. Photo courtesy of Dr. Ben Stout.
There are many types of pollutants. Common water pollutants include acid mine drainage, agricultural runoff, sewage, and dredging. Sources of pollution are classified according to the way they enter the environment. There are two major classes of pollutants: point-source and non-point-source. Point-source pollutants can be traced to their original source. Point-source pollutants are discharged directly from pipes or spills. Raw sewage draining from a pipe directly into a stream is an example of a point-source water pollutant. Non-point-source pollutants cannot be traced to a specific original source. These pollutants can only be traced to a general area. Non-point sources of pollution include runoff from backyards, parking lots, farms, mines, construction sites, etc.
Overview ..|.. Acid Mine Drainage ..|.. Agriculture ..|.. Sewage ..|.. Dredging
Glossary .|. Related Links .|.. References ..|.. PBL Model .|
Home ..|.. Teacher Pages ..|.. Modules & Activities