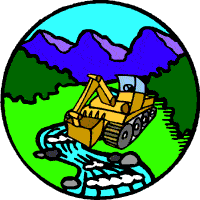 Water Pollution: Dredging
Dredging is a non-point-source pollutant. It is the process by which large rocks are removed from a waterway. This process changes a waterway's substrate composition as well as its shape. Dredging can turn a shallow, winding stream with many sizes of rocks on its bottom into a deep, straight stream with only small rocks on its bottom. In the past, rocks were often dredged from streams to provide fill material for road- and railroad-building activities. More recently, streams have been dredged as a means of flood protection. Some landowners even dredge streams to create more convenient or prettier channels. Image © 1999 -www.arttoday.com
Removal of large rocks from a stream can decrease the stream's resistance to flow. This results in an increase in the stream's velocity. Increased velocity can cause downstream flooding. In addition, the removal of large rocks often leaves a stream bed with small, uniform-size rocks. This destroys important habitats of aquatic plants, fish,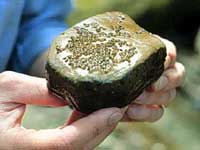 amphibians, and aquatic insects. Many of these organisms require areas with large rocks for cover, oxygenated water, feeding, and even for the placement of eggs (see photo below). Photo: Larvae on a rock from Wheeling Creek. Photo courtesy of Dr. Kenneth Rastall.
Dredging is generally performed with large machinery. Large machines in small streams disrupt the stream bed and cause a short-term siltation event. The siltation event can be harmful to downstream aquatic communities. Siltation is observed as increased turbidity . Increased turbidity can lead to increased water temperature.
Overview ..|.. Acid Mine Drainage ..|.. Agriculture ..|.. Sewage ..|.. Dredging
Glossary .|. Related Links .|.. References ..|.. PBL Model .|
Home ..|.. Teacher Pages ..|.. Modules & Activities