Water Pollution: Sewage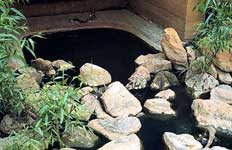 Sewage is generally a point-source pollutant. Sewage is the waste water from residential and commercial buildings. Degradation of stream water quality by untreated or insufficiently treated sewage is a widespread problem in many rural areas. Home owners in these communities are often responsible for providing their own septic systems. Many times these systems are improperly installed. They leak their contents into the groundwater. Some rural home owners cannot afford to install septic systems at all, so they pipe their sewage directly into local streams. Photo Combined sewage outflow along Wheeling Creek. Photo courtesy of Dr. Ben Stout.
Urban communities also face the problem of sewage in their stream water. These communities typically have water treatment plants where sewage is chemically treated then piped to nearby rivers and streams. The untreated sewage, along with stormwater runoff, is often carried to the sewage treatment plant in combined sewage outflows (CSOs).
During heavy downpours, stormwater runoff overwhelms the treatment plant. Consequently, a system of gates opens and releases the excess runoff -- along with the untreated sewage -- into nearby waterways.
Sewage carries excessive nutrients such as nitrogen and phosphorus to stream water. The excessive nutrients can lead to decreased levels of dissolved oxygen as a result of the process of eutrophication. Sewage also contributes to increased total solids , including fecal coliform, as well as increased water temperature.
Overview ..|.. Acid Mine Drainage ..|.. Agriculture ..|.. Sewage ..|.. Dredging
Glossary .|. Related Links .|.. References ..|.. PBL Model .|
Home ..|.. Teacher Pages ..|.. Modules & Activities