Wheeling Creek Case Study: Name That Pollutant: Site 5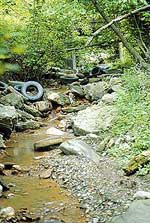 Acid mine drainage is a serious problem on Wheeling Creek watershed. Photo: A headwater stream carrying acid mine drainage. Photo courtesy of Kenneth E. Rastall.
Wheeling's coal mining industry spans roughly 190 years. During that time, billions of tons of coal have been extracted from virtually every hillside in and around the city. Many of Wheeling's coal mines were located along Big Wheeling Creek, Middle Wheeling Creek, and Little Wheeling Creek, as well as along many of Wheeling Creek's lesser tributaries, such as Peters Run. Energy from coal was critical to the development of Wheeling's industrial base and the settlement west of the Ohio River.
Coal mining remains one of West Virginia's most important industries. Coal is the energy resource that drives nearly all industry in the Ohio River Valley. Since 1990, however, Wheeling's coal industries have virtually come to a halt. By 1995, there were no mining sites in Wheeling proper. Today, the greatest problem with acid mine drainage in that region stems from abandoned deep mines.
Overview ..|.. Environmental History ..|.. Name That Pollutant
Site 5 / Site 79
Glossary .|. Related Links .|.. References ..|.. PBL Model .|
Home ..|.. Teacher Pages ..|.. Modules & Activities