Go to the "Carbon Dioxide" puzzle piece for more information about Human Influences on this gas.



Global Climate Change: Human Influences-- Atmospheric CFCs
Atmospheric concentrations of chlorofluorocarbons (CFCs), anthropogenic aerosol compounds containing chlorine, fluorine, and carbon, have increased dramatically in recent decades. These compounds, also known as freons, were commonly used in propellants, refrigerants, and solvents. In 1989, after discovering the environmental impacts of CFCs, the leaders of 13 nations agreed to stop producing them by the year 2000. It will take some time, however, for the CFCs already in the atmosphere to be broken down. Figure: The concentration of chlorofluorocarbons in the atmosphere from 1977 to 1994.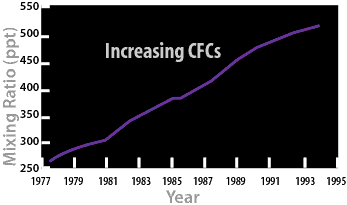 Overview ..|.. Human Influences ..|.. Impacts
Atmospheric CFCs / Atmospheric Methane / Atmospheric Nitrous Oxide / Tropospheric Ozone / The Chemistry
Glossary ..|.. Related Links ..|.. References |.. PBL Model
Home ..|.. Teacher Pages ..|.. Modules & Activities

---
HTML code by Chris Kreger
Maintained by ETE Team
Last updated November 10, 2004
Some images © 2004 www.clipart.com
Privacy Statement and Copyright © 1997-2004 by Wheeling Jesuit University/NASA-supported Classroom of the Future. All rights reserved.
Center for Educational Technologies, Circuit Board/Apple graphic logo, and COTF Classroom of the Future logo are registered trademarks of Wheeling Jesuit University.