Go to the "Carbon Dioxide" puzzle piece for more information about Human Influences on this gas.



Global Climate Change: Human Influences-- Atmospheric Methane
Freshwater wetlands are a common source of the atmospheric greenhouse gas methane (CH4). The methane produced in wetlands is the result of the metabolic process of certain mico-organisms called "methanogens." This process occurs in nearly all freshwater wetlands--including those that are constructed by humans.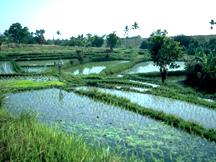 One very important constructed freshwater wetland is the rice paddy. A rice paddy is a plot of land that is flooded in order to grow rice. As the human population grows, so does the area of land covered by rice paddies to produce the important food crop. This leads to an increase in the amount of CH4 released to the atmosphere. Photo © 2000-www.arttoday.com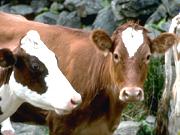 Methane is also produced in the stomachs of cattle, another major food source. Cattle and other grazing animals release large amounts of methane in their intestinal gas (flatulence). In fact, the flatulence of animals is a significant source of methane. However, research has shown that larger herds of cattle and other grazing animals is not related to increased concentrations of this greenhouse gas in the atmosphere. Photo © 2000-www.arttoday.com
Overview ..|.. Human Influences ..|.. Impacts
Atmospheric CFCs / Atmospheric Methane / Atmospheric Nitrous Oxide / Tropospheric Ozone / The Chemistry
Glossary ..|.. Related Links ..|.. References |.. PBL Model
Home ..|.. Teacher Pages ..|.. Modules & Activities

---
HTML code by Chris Kreger
Maintained by ETE Team
Last updated November 10, 2004
Some images © 2004 www.clipart.com
Privacy Statement and Copyright © 1997-2004 by Wheeling Jesuit University/NASA-supported Classroom of the Future. All rights reserved.
Center for Educational Technologies, Circuit Board/Apple graphic logo, and COTF Classroom of the Future logo are registered trademarks of Wheeling Jesuit University.