Go to the "Carbon Dioxide" puzzle piece for more information about Human Influences on this gas.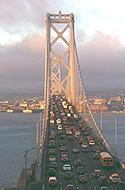 Global Climate Change: Human Influences-- Tropospheric Ozone
Ozone (O3), in addition to nitrogen oxides (NOx) and hydrocarbons (-CH-), is a by-product of the combustion, or burning, of fossil fuels. Fossil fuels include oil, natural gas, and coal. These fuels are burned in automobile engines, as well as many power plants and industrial factories.

Ozone occurs naturally in the upper layer of the atmosphere called the stratosphere. There, O3 protects the earth from the sun's damaging ultraviolet rays. However, O3 produced by humans in the lower layer of the atmosphere, the troposphere, is harmful. Tropospheric ozone is a major component of smog. Smog is the thick, brown haze that is often seen over cities and industrial regions. Besides being a powerful greenhouse gas, tropospheric ozone irritates the eyes and lungs, may cause lung cancer, and kills plant tissue. Photo: Traffic on the Bay Bridge in San Francisco, CA . Photo courtesy Phil Greenspun.
Overview ..|.. Human Influences ..|.. Impacts
Atmospheric CFCs / Atmospheric Methane / Atmospheric Nitrous Oxide / Tropospheric Ozone / The Chemistry
Glossary ..|.. Related Links ..|.. References |.. PBL Model
Home ..|.. Teacher Pages ..|.. Modules & Activities

---
HTML code by Chris Kreger
Maintained by ETE Team
Last updated November 10, 2004
Some images © 2004 www.clipart.com
Privacy Statement and Copyright © 1997-2004 by Wheeling Jesuit University/NASA-supported Classroom of the Future. All rights reserved.
Center for Educational Technologies, Circuit Board/Apple graphic logo, and COTF Classroom of the Future logo are registered trademarks of Wheeling Jesuit University.