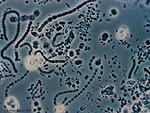 Wetlands: Species
"Species" is the word used to refer to the most basic classification of organisms. For example, although the great blue heron and the eagle are both birds, they are two very different species with very different needs. One of the most visible and spectacular traits of any wetlands environment is the presence of many unique species. A growing problem for many wetlands species is the destruction of their habitat. The loss of habitat results in a decrease in biodiversity--the relationship between the number of species present in an area and the number of individuals within each of those species. The greater the number of species, and the more evenly the individuals are distributed among these species, the greater the biodiversity of an area. Photo: Methanosarcin. Photo courtesy of Frank Dazzo, Center for Microbial Ecology, MSU.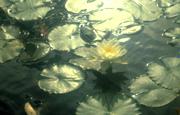 There are many reasons to be concerned with decreasing biodiversity. All species are unique and should be preserved. Their value as life forms can never be re-created once they are extinct. It is important to be able to study the genetic make-up of various species in order to understand the evolution of new species. The usefulness of various plant and animal species for food and medicine is another reason for preserving biodiversity. A final argument for preserving biodiversity is the fact that all organisms are interrelated. It is often not until a species is extinct that people realize its importance to the ecosystem. Photo: Water lily. Photo © 2000-www.arttoday.com.

Wetlands provide habitat to many species of microorganisms, plants, and animals. It is hard to miss the blooming cattails, buzzing insects, and flocks of waterfowl that commonly live in wetlands. Although a home to many living things, wetlands offer a challenging life to their inhabitants. Because of the cycles of wet and dry seasons, microorganisms, plants, and animals must be able to survive in both terrestrial (land) and aquatic (water) ecosystems.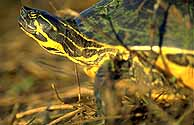 The wetlands provide organisms with food, shelter, and a place to rest. Meanwhile organisms provide many services that are important to the functions of wetlands. For example, many microorganisms and plants break down and remove toxins and excessive nutrients from the water. Wetlands plants also produce oxygen and serve as food for some of the animals. Photo: Turtle. Photo courtesy of South Florida Water Management District.
Overview ..|.. Species ..|.. Functions.. ..|.. Management
Microorganisms / Plants / Animals
Glossary ..|.. Related Links ..|.. References |..PBL Model
Home ..|.. Teacher Pages ..|.. Modules & Activities

---
HTML code by Chris Kreger
Maintained by ETE Team
Last updated April 28, 2005
Some images © 2004 www.clipart.com
Privacy Statement and Copyright © 1997-2004 by Wheeling Jesuit University/NASA-supported Classroom of the Future. All rights reserved.
Center for Educational Technologies, Circuit Board/Apple graphic logo, and COTF Classroom of the Future logo are registered trademarks of Wheeling Jesuit University.