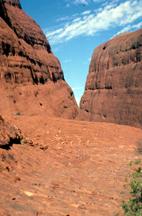 Desert
The defining characteristic of a desert is that it is dry. Depending on its geographical location, the annual precipitation in a desert varies from half an inch to as much as 15 inches. Rainfall is usually very localized, and although it is frequently seasonal, it is difficult to predict when or where it will occur. At times in the Atacama Desert in Chile, years have passed with no measurable rainfall at all. However, that is not generally the case. Photo © 2000-www.arttoday.com
Deserts can be either hot such as the Australian Desert or cold such as the Gobi Desert. As with all biomes, the desert climate is determined by geographic conditions. Geographic conditions such as location, high atmospheric pressure, and proximity of mountain ranges determine just what type of desert it is.
Deserts may occur along the coast such as the Atacama and Namib deserts or in the interior of continents such as the Great Basin and Australian deserts, which are far from any source of water. Coastal deserts are located on west coasts of continents between 20° to 30° latitude. Prevailing winds blow in an easterly pattern and prevent the moisture from moving onto the land. Semiarid deserts, like the Great Basin Desert, are not only located far from moisture, but are frequently associated with high mountain ranges that produce a rainshadow effect. The rainshadow effect prevents available moisture from reaching the area. The great Gobi Desert of Mongolia has little rainfall because the Himalayan Mountains prevent rainfall from moving into this region.
Because all deserts are dry, they have large daily temperature variations. Temperatures are high during the day because there is very little moisture in the air to block the Sun's rays from reaching Earth. Once the Sun goes down, the heat absorbed during the day quickly escapes back into space. High daytime temperatures and low nighttime temperatures make survival in the desert very difficult.