Deciduous Forest
The mid-latitude deciduous forest biome is located between the polar regions and the tropics. Because of its location, air masses from both the cold polar region and the warm tropical region contribute to the changes of climate in this biome. Photo © 2000-www.arttoday.com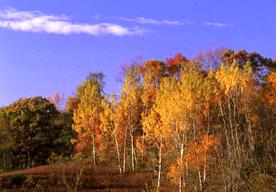 Mid-latitude deciduous forests have both a warm and a cold season (see climograph). Precipitation ranges from 30 to 60 inches and is evenly distributed throughout the year. Much of the human population lives in this biome. Although evergreens are found in this biome, this biome is characterized by an abundance of deciduous trees.
"Deciduous" means to fall off, or shed, seasonally. Just as the name implies, these deciduous trees shed their leaves each fall. Lying on the forest floor, the leaves decay. As the leaves decompose, the nutrients contained in the leaves are absorbed by the soil. For this reason, the soils of this biome tend to be very fertile. Because this biome has fertile soil and a long, 5 to 6 month, growing season, many deciduous forests have been converted into agricultural regions.