Deciduous Forest: Plants
Trees of this biome include both broadleaf, deciduous trees, such as maple, oak, hickory, and beech, and evergreens, such as hemlock, spruce, and fir. A deciduous forest typically has three to four, and sometimes five, layers of plant growth.
Tall deciduous trees make up the top layer of plant growth, and they create a moderately dense forest canopy. Although the canopy is moderately dense, it does allow sunlight to reach the forest floor. This sunlight allows plants in the other layers to grow. The second layer of plant growth includes saplings and species of trees that are naturally shorter in stature. A third layer (or understory) would include shrubs. Forest herbs, such as wildflowers and berries, make up a fourth layer. During the spring, before the deciduous trees leaf out, these herbs bloom and grow quickly in order to take advantage of the sunlight. A fifth layer would include mosses and lichens that grow on tree trunks.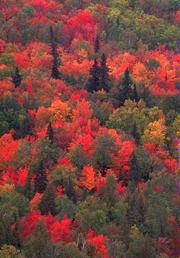 Plant adaptations
In the spring, deciduous trees begin producing thin, broad, light-weight leaves. This type of leaf structure easily captures the sunlight needed for food production (photosynthesis). The broad leaves are great when temperatures are warm and there is plenty of sunlight. However, when temperatures are cold, the broad leaves expose too much surface area to water loss and tissue damage. To help prevent this damage from occurring, deciduous trees make internal and physical adaptations that are triggered by changes in the climate.
Cooler temperatures and limited sunlight are two climatic conditions that tell the tree to begin adapting. In the Fall, when these conditions occur, the tree cuts off the supply of water to the leaves and seals off the area between the leaf stem and the tree trunk. With limited sunlight and water, the leaf is unable to continue producing chlorophyll, the "green" stuff in the leaves, and as the chlorophyll decreases the leaves change color. The beautiful display of brilliant red, yellow, and gold leaves, associated with deciduous forests in the fall, is a result of this process. Most deciduous trees shed their leaves, once the leaves are brown and dry. Photos © 2000-www.arttoday.com