Desert: Plants
Short grasses, sagebrush, creosote bushes, and cacti are just a few of the plants that can be found in the desert. Plant abundance and variety are determined by the geographic location of the desert. Although short grasses can be found in nearly all desert locations, the saguaro cactus is unique to the Sonoran Desert, and the spiniflex is associated with the Australian Desert.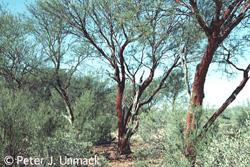 Plant adaptations
Because of the dry climate, plants have developed a number of different methods of capturing water. Some plants have developed long (20-30 foot) taproots that go deep into the ground and tap into groundwater sources. Other plants have developed extensive horizontal root systems. These horizontal root systems lie just below the surface and extend far beyond the plant canopy. When it rains the numerous tiny roots capture the water. The mulga tree's root system lies close to the base of the tree. The tree survives because it has developed its own unique system of collecting water. The tree's numerous tiny leaves grow upward. When it rains the leaves capture the water and funnel it down along the branches to the center of the tree. The water then falls to the ground near the trunk of the tree where tree roots are concentrated. Photo courtesy of Peter J. Unmack, at www.utexas.edu/depts/tnhc/.www/fish/dfc/australi
Another common physical adaptation is the ability of desert plants to store water in their roots, stems, leaves, or fruit. Plants that store water in this way are referred to as succulents, and they include cacti.
Desert plants retain moisture by limiting water loss through their leaf surface. Many plants accomplish this by adapting the size, sheen, or texture of their leaves. Small leaves or spines limit the amount of surface area exposed to the drying heat. Glossy leaves reflect the Sun's radiant heat reducing leaf temperatures and evaporation rates. Waxy leaves prevent moisture from escaping. Water escapes from leaves through the stomata, or leaf pores. A behavioral adaptation used by some plants is to only open leaf pores during the night when air temperature is cool and evaporation rate is low.