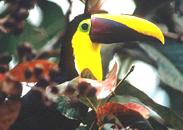 Tropical Rainforest: Animals
Tropical rainforests support a greater number and variety of animals than any other biome. One of the reasons for this great variety of animals is the constant warmth. Tropical rainforests also provide a nearly constant supply of water and a wide variety of food for the animals. Small animals, including monkeys, birds, snakes, rodents, frogs, and lizards are common in the tropical rainforest. Many of these animals and a multitude of insects never set foot on the ground. The animals use the tall trees and understory for shelter, hiding places from their predators, and a source of food.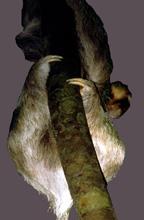 Animal adaptation
Because there are so many animals competing for food, many animals have adapted by learning to eat a particular food eaten by no other animal. Toucans have adapted by developing long, large bill. This adaptation allows this bird to reach fruit on branches that are too small to support the bird's weight. The bill also is used to cut the fruit from the tree.
The sloth uses a behavioral adaptation and camouflage to survive in the rainforest. It moves very, very slowly and spends most of its time hanging upside down from trees. Blue-green algae grows on its fur giving the sloth a greenish color and making it more difficult for predators to spot. Photos © 2000-www.arttoday.com