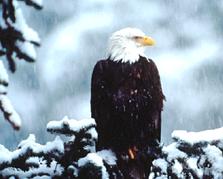 Taiga: Animals
The cold climate of the taiga prevents many animals from living there year-round. Some of the large animals found in the taiga include moose, deer, and bears. Examples of smaller animals that live in the taiga are bobcats, squirrels, chipmunks, ermine, and moles. Photo © 2000-www.arttoday.com
The taiga is home to many insects and birds such as the bald eagle, chickadee, woodpeckers, and warblers. The bogs and ponds, found throughout the taiga during the summer, provide a wonderful breeding place for a wide variety of insects. Many migratory birds come to the taiga to nest and feed on the huge insect population.
Animal adaptations
Most animals migrate to warmer climates once the cold weather begins. Some animals have adapted to life in the taiga by hibernating when temperatures drop. Other animals have adapted to the extreme cold temperatures by producing a layer of insulating feathers or fur to protect them from the cold.
In some instances, the adaptation of a seasonal change in color of feathers or fur protects the animal from its predators. The ermine, a small mammal, is a good example of this adaptation. Its dark brown summer coat changes to white in the winter. This adaptation helps the ermine blend into its surroundings and makes it more difficult for the ermine's predators to spot them.