Arctic Tundra: Plants
Plants need warmth and sunlight to grow and reproduce. In the Arctic tundra, warmth and sunlight are in short supply, even in the summer. The ground is frequently covered with snow until June, and the Sun is always low in the sky.
Only plants with shallow root systems grow in the Arctic tundra because the permafrost prevents plants from sending their roots down past the active layer of soil. The active layer of soil is free from ice for only 50 to 90 days.
Arctic plants have a very short growing season. However, in spite of the severe conditions and the short growing season, there are approximately 1,700 kinds of plants that live in the Arctic tundra. Some of the plants that live in the Arctic tundra include mosses, lichens, low-growing shrubs, and grasses--but no trees. In fact, "tundra" is a Finnish words which means "treeless".
Plant Adaptations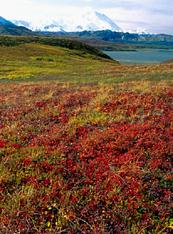 Growing close together and low to the ground are some of the adaptations that plants use to survive. This growing pattern helps the plant resist the effects of cold temperatures and reduce the damage caused by the impact of tiny particles of ice and snow that are driven by the dry winds. Photo © 2000-www.arttoday.com
Plants also have adapted to the Arctic tundra by developing the ability to grow under a layer of snow, to carry out photosynthesis in extremely cold temperatures, and for flowering plants, to produce flowers quickly once summer begins. A small leaf structure is another physical adaptation that helps plants survive. Plants lose water through their leaf surface. By producing small leaves the plant is more able to retain the moisture it has stored.