Water Quality Assessment: Physical: Elevation and Catchment Area
Elevation and catchment area of a watershed can be obtained from topographic maps of the sample area. Image: Topographic map of Wheeling, WV. Image courtesy of USGS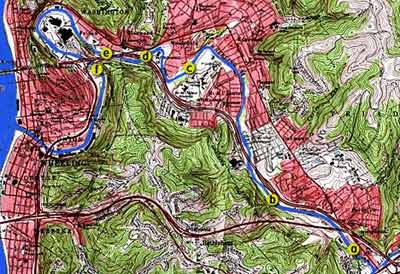 Elevation information is printed directly on topographic maps. The investigator need only find the location of the site and read the corresponding elevation. Catchment area can be measured on a topographic map using a planimeter. A planimeter is a piece of clear plastic covered with evenly-spaced dots. The investigator places the planimeter on the topographic map and counts the number of dots that lie within the watershed's boundaries. Planimeters are calibrated so that one can calculate the area (km2) of the watershed from the number of planimeter dots that cover it.
Overview ..|.. Biological Assessment ..|.. Chemical Assessment ..|.. Physical Assessment.
Elevation and Catchment Area / Stream Order / Forest Canopy / Width, Depth, and Velocity / Rock Size / Turbidity / Total Solids / Temperature
Glossary .|. Related Links .|.. References ..|.. PBL Model .|
Home ..|.. Teacher Pages ..|.. Modules & Activities