Water Quality Assessment: Physical: Forest Canopy
Canopy cover is the percentage of a sample area shaded by vegetation. Canopy cover plays an important role in stream water quality. For example, headwater streams are generally located deep within forests where canopy cover is nearly 100%. The canopy provides nutrient inputs through litter fall. It also provides shade that keeps the stream water cool. A large canopy cover may indicate a large amount of vegetation along the stream. This results in increased stabilization of the stream bank by roots, and therefore decreased erosion.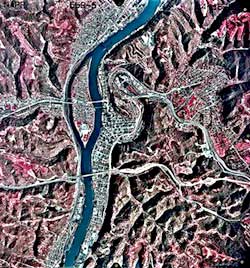 Remote sensing is the tool most often used to examine canopy cover over large areas. Remote sensing ranges from satellite images that differentiate among soil, water and vegetation by the type of light reflected, to pictures taken from airplanes. High-level aerial photographs like the one below can show distinct landforms such as forests, pastures, and tilled lands, in addition to highways and waterways. Photo: Aerial photograph of the upper Wheeling Creek watershed. Photo courtesy of Dr. Ben Stout.
Canopy cover can also be estimated more economically by standing in the center of the sample area and looking at the sky directly overhead. Scientists estimate the percentage of their field of vision that appears to be covered by vegetation. This percentage is the canopy cover. A similar method entails taking a picture from this position and measuring the percentage of the picture covered with vegetation using image analysis software.
The percentage of a stream covered by canopy decreases naturally with increasing stream order. This is a function of stream width. However, canopy cover can also be diminished by human activities such as logging, farming and construction. For this reason, measurements of canopy cover can be useful in detecting certain polluters--either present or past.
Overview ..|.. Biological Assessment ..|.. Chemical Assessment ..|.. Physical Assessment.
Elevation and Catchment Area / Stream Order / Forest Canopy / Width, Depth, and Velocity / Rock Size / Turbidity / Total Solids / Temperature
Glossary .|. Related Links .|.. References ..|.. PBL Model .|
Home ..|.. Teacher Pages ..|.. Modules & Activities