Water Quality Assessment: Physical: Rock Size
The size of rocks on the bottom of a stream is very important. It affects the flow of water through a channel. Streams with a mixture of large and small stones tend to have increased turbulence. This leads to increased oxygenation of the water. Rock size may also affect the species of organisms that inhabit a stream.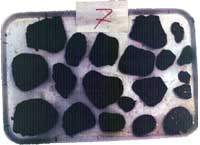 Typically, scientists measure the size of the rocks removed from the benthic sampler during the biological assessment. Scientists assume that the rocks are round and estimate their area as "

", where "r" is ½ the longest distance across the rock. Another method is to photograph the rocks on a white pan and use video image analysis to calculate the exact area of each rock (see photo). Photo: Sample of rocks collected from Wheeling Creek. Photo courtesy of Dr. Ben Stout.
A lack of variability in rock size may indicate that a stream has been dredged at some point in the past.
Overview ..|.. Biological Assessment ..|.. Chemical Assessment ..|.. Physical Assessment.
Elevation and Catchment Area / Stream Order / Forest Canopy / Width, Depth, and Velocity / Rock Size / Turbidity / Total Solids / Temperature
Glossary .|. Related Links .|.. References ..|.. PBL Model .|
Home ..|.. Teacher Pages ..|.. Modules & Activities