Water Quality Assessment: Physical: Width, Depth, and Velocity
Stream width and depth affect many other characteristics of a stream. For example, a stream flowing through a wide, shallow channel will receive more sunlight throughout its water column. Increased sunlight will cause the shallow water to become warmer throughout. Also, streams that have uniform depths across their entire widths tend to flow with greater velocity or speed because there is nothing to slow them.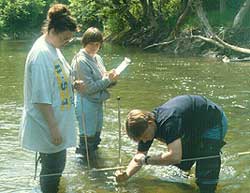 Velocity can be measured with a flow meter at the same time width and depth are measured (see photo). This is accomplished by stretching a meter tape across the entire width of the stream and noting the distance. At regular intervals (usually 0.5 m) across the width of the stream, depth should be measured. At these points, the flow of the stream can be measured by following the directions that accompany the flow meter. Photo: Students measuring stream width with a meter tape, depth with a meter stick, and flow with a flow meter along Wheeling Creek. Photo courtesy of Ben Stout.
If a flow meter is not available, the velocity of a stream can be measured by determining the amount of time for an object such as a small film canister or a fishing bobber to float 1 m down the middle of the stream. This procedure should be repeated three times. Results from any trials in which the object gets caught on the bank, in debris, or in a whirl pool should be discarded. Velocity an then be calculated as the average of the three trials.
Uniform depths and high velocities may indicate dredging.
Overview ..|.. Biological Assessment ..|.. Chemical Assessment ..|.. Physical Assessment.
Elevation and Catchment Area / Stream Order / Forest Canopy / Width, Depth, and Velocity / Rock Size / Turbidity / Total Solids / Temperature
Glossary .|. Related Links .|.. References ..|.. PBL Model .|
Home ..|.. Teacher Pages ..|.. Modules & Activities